Ark Survival Evolved : Valentines at Merric Gaming
Merric Gaming, the time has come to wave off the captivating pink and white Argentavis.
However, our long time friend the Dilo is always looking for a kiss – much to our disgust!
During the 12th and the 18th of February we hope you all enjoyed the boosts and made the most of this seasonal event.
What was added during the Valentines Event?
 Red, Pink & White coloured dinosaurs could be spotted across the Island for you to either 'Smash or Pass'
 Incubation and maturing speed was increased X3 making this the perfect week to start hatching those eggs that you've been clinging to!
Mating speed & range was also boosted X2

You may have been lucky enough to pick up some Valentines Candy which gives a random colour set. Maybe even Valentines Chocolate which is used to restore full health or knock 40% off a Dino's tame bar.

What did we learn from the event?
Raptor packs will never be your true love, not now, not ever. Moving on swiftly, this was a great chance to bag some interesting colour combos for breeding. So far I have seen some interesting mutations across the server, looking great everyone!
Did anyone else have any interesting experiences or maybe even find your new favourite companion?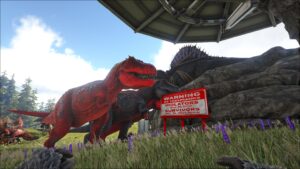 Thanks for reading! Be sure to join our Merric Gaming Discord to stay up to date with all the latest Ark Survival Evolved news!